Listen to songs and make phone calls support listening to songs and making phone calls.
Pick up automatic boot binaural call automatic pairing wireless charging.
Each time the Bluetooth headset is connected to the mobile phone the Bluetooth headset will automatically connect back to the mobile phone when it is turned on which is convenient and quick.
Smart compatibility: Support all mobile phones with Bluetooth function tablet laptop singing QQ music movies etc.
Support wireless charging.
Support the pop-up function.
Color

: white

Model

: headset

Weight (kg)

: 0.2
WHAT'S IN THE BOX
2 x headphones1 x charge box1 x charging cable1 x instructions


Product Description 2:


POWER YOUR DEVICE MORE EFFICIENTLY:
Even the best smartphones run out of battery quickly, leaving you helpless when you need help most. However, this 5,000mAh power bank charges your phone up to 3.5 times, keeping you prepared for even the longest journeys.
ULTRA SLIM AND SLEEK:
Despite its power, it has a slim and sleek design that makes it easy to carry anywhere you go, meaning it can be easily slipped into your backpack or office bag. The price is pocket-friendly too!
SUPERIOR QUALITY:
The VEGER portable charger has a superior finish. Made with high-quality components, it it is durable and effective over a longer period of time. Even though the power bank is slim, it is sturdy, easily surviving everyday wear and tear. Moreover, it can be easily and speedily charged with the provided micro USB port.
VEGER #1 Slim Cable Power Bank Maker
VEGER is Original Design Manufacturer. Most of slim cable power bank (built-in cable )in the world were made by us.
VEGER Slim Cable Li-Polymer Battery Portable Charger
A 5000mAh slim power bank
Large Capacity 5000mAh,Palm Size ,Easy Holding
Enough power to keep you going for days. Charge an iPhone 6s 3.5 times, a Galaxy S6 2.5 times or an iPad mini4 1 times. Battery.
1A Input
Recharged the power bank full by DC5V-2A adapter within 6 hours.
Intelligent Charging Output
Intelligently detects and delivers the optimal charging current for any connected device . (1A for Galaxy S6, 1A for iPhone 6s) . To ensure complete safety and best performance, please use the included cable, your original cable or a third-party certified one .
Safer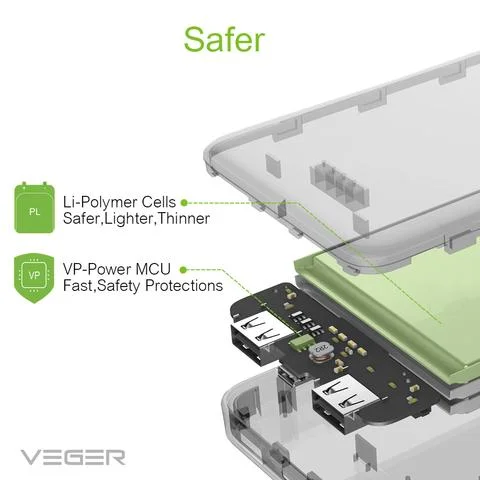 VP-Power MCU :more advanced safety features keep you and your devices safe( temperature control ,over-charged, over-discharged, over-voltage, over-current and short-circuit protection).
Li-Polymer Cells: Never explode .After 24 months(after 500 charge-discharge cycles), still over 80% of total capacity .It is 10% more power than the ordinary 18650 Lithium-ion cells.
The flame-retardant plastic shell protects the power bank from damage.
Lighter and Thinner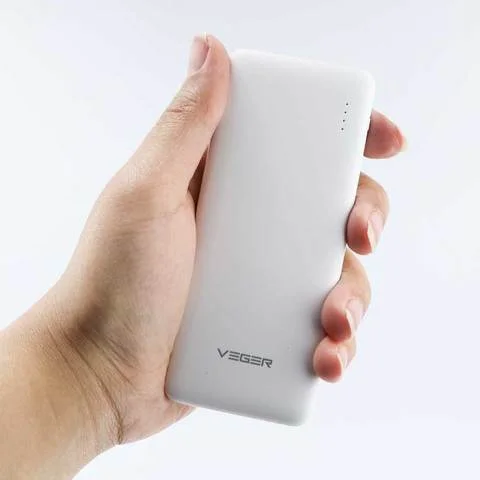 Compare to Same capacity 5000mah Li-ion Power Bank(18650 battery inside ), it is slim 9mm.
What's Included
1 x VEGER 5000mAh Power Bank X052
1 x Micro USB Charging Cable
1 x User Manual